YachtQuarters: Shared Yacht Ownership
For all its indisputable pleasures, new boat ownership can be a complex and costly pastime. But in a world where the shared economy now encompasses everything from watches and cars to holiday homes and aeroplanes, the shared luxury yacht is now very much a reality. There are of course plenty of informal syndicates, organised between likeminded boaters to help minimise expense but, if you want a professionally operated scheme that cuts the costs and irons out the logistics without diluting the fun, YachtQuarters is one of the industry's most exciting solutions. We spoke to Josh Cleaver, YachtQuarters Sales Manager, for the inside story…
What is the YachtQuarters shared yacht programme?
"YachtQuarters is a way of owning a Princess Yacht at a fraction of the cost and having the full management taken care of by us," says Josh. "It's about getting as close to the true ownership experience as possible, but without the big outlay and without the fuss or complication." As a shared yacht ownership scheme operated by Princess Motor Yacht Sales, that "full management" approach involves everything from berthing and crewing to tailored on board service and highly integrated shore-based support. As Josh explains, in essence, it's about taking the idea of fractional ownership and elevating it to the level that established Princess owners would expect: "Our YachtQuarters shareholders have a dedicated Yacht Manager and access to our Concierge team. We take care of the calendar, the maintenance, the insurance, the berthing and the hiring of the crew. That means you get to walk on and off with zero hassle – and that makes the yachting experience all the more special."
How does YachtQuarters work?
The annual calendar is divided up into different seasons, according to popularity. Each of the eight shareholders then gets four weeks throughout the year, allocated according to a series of blocking rounds, which rotate year-on-year, so that everyone has an equal opportunity for high-priority selections. That leaves 20 weeks spare for maintenance, ensuring that you get the use of a pristine shared yacht with a full Princess aftermarket warranty, alongside the reassurance that your financial stake in the boat is properly safeguarded.
To help maintain high service standards, each YachtQuarters shared yacht is professionally crewed as a matter of course and is run for a contracted period of four years. You are free to sell your share after just two years but in all cases, once the four-year period is up, the boat is sold and the money is divided between the owners. The owners themselves get first refusal on whether they want to keep the boat and carry on privately but Josh's hope (and his prevailing experience) is that they will be keen to carry on with a new YachtQuarters vessel. As Josh points out, that's why there will always be a slight upgrade on the existing boat, "ready and waiting when the first boat finishes its term."
What kinds of boat does YachtQuarters involve?
While YachtQuarters has overseen Princess yachts at both 64 and 68 feet, Josh believes that the extra crew berth on the Princess 68 brings a marked step up in the calibre of the on board lifestyle. "For clients who want the slick service of a high-end charter, the Princess 68 is perfect. In addition to the Captain, who manages the yacht's operation, it also has space for a steward or stewardess, who can serve the food, take care of the yacht and tend to the owners' needs." Critically though, a YachtQuarters yacht is not just about size. It's also about sourcing a sought-after model of the right age and quality. The Princess 68 currently operating out of Mallorca, for instance, was sold new by Princess Motor Yacht Sales to the original owner and then serviced by them before it returned in part-exchange. So as Josh explains, "we knew the boat inside out. We knew it would be a great yacht to put into the scheme and one that would be easy to cover under warranty. Of course, it's not a brand new boat, but it feels as close to new as it's possible to imagine and that's what our customers want."
How much does the YachtQuarters shared yacht programme cost?
The Princess 68, which would normally cost around £2million to buy, is made available to shareholders for around £275,000 per share – and Josh is very clear about the financial merits of that. "In four years' time, when we sell that boat, the worst case is that you'll get 50% of your initial share price back. If you then add £47,000 for each year of costs and divide that by 16 (for your total number of allocated weeks), it works out at less than £20,000 per week on board, excluding consumables. To charter a similar Princess 68 would cost around £34,000 per week before tax and consumables, so the value on offer is extraordinary." It makes a lot of practical sense too, particularly in the current boat-buying climate, with lead times for new boats getting longer. But by investing in the YachtQuarters scheme, you can get straight on the water with moderate upfront costs and simply trade your share in when your new boat arrives.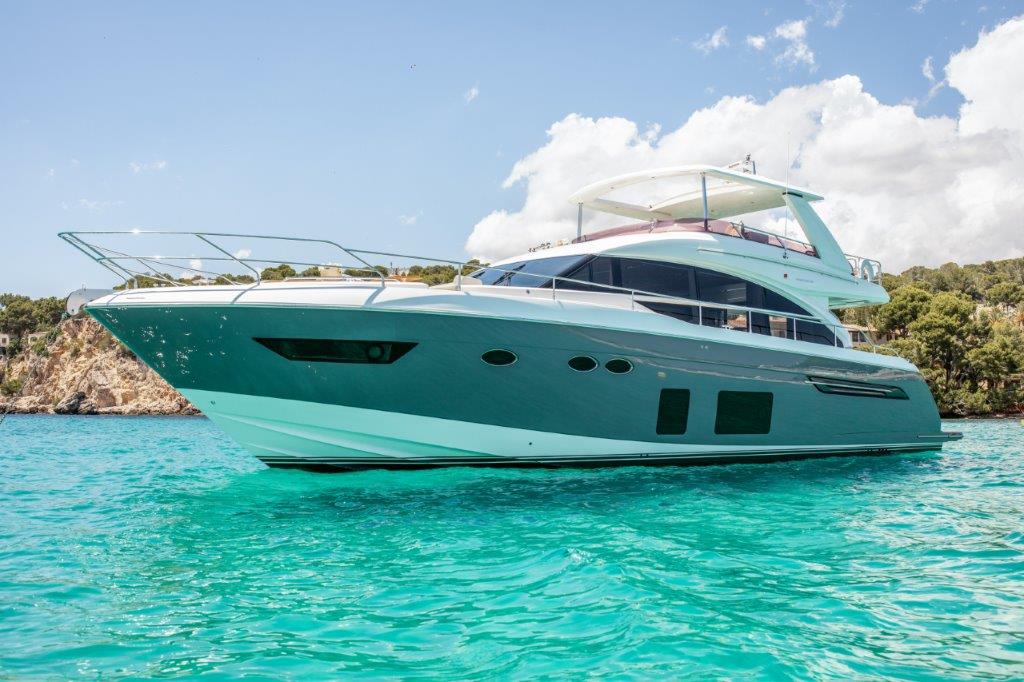 Can you take a YachtQuarters boat further afield?
The YachtQuarters cruising programme is much more flexible than people think. For instance, with its base in Mallorca, the YachtQuarters Princess 68 already has the wonderful attractions of Ibiza, Formentera and Menorca directly on its doorstep. But with a contract that allows you to go anywhere in the western Med, there are a whole range of additional opportunities, as Josh explains: "You could bolt two of your weeks together and spend ten days in the south of France, with a two-day passage at each end. We could also speak to the owners with time slots on either side of yours and ask if they want to share the costs and go even further afield."
This approach is what Josh calls "maximum experience for minimum input" and it extends to the finer details of the itinerary too. For instance, if you don't know what to do with your week, you can simply let the YachtQuarters team tailor it on your behalf. "We can arrange the cars to pick you up from the airport," says Josh. "We can share recommended passage plans and book the restaurants. The Captain's also got immense knowledge of the local region so his ideas are invaluable. And because your crew will know your preferences intimately, your time on board, as well as ashore, is likely to prove as relaxed and enjoyable as any yachting experience in the world."
Take a look at the Princess 68 shared yacht here, with final shares remaining for 2022 cruising.