Retrofit & refurbishment.
Andy Hobbs is best known locally in Yarmouth as the 'entertainer'.  A motorcycle stuntman in his previous chapter in life, and world record-holder of the one-mile wheelie – blind-folded, he now runs his own successful yacht charter company on the Isle of Wight.  After leaping behind the glossy galley and whizzing up barista-style drinks in his coffee machine, the conversation flowed.  Princess' interview with Andy kicked-off with a few magic tricks in the saloon of his beloved Princess 23M Motor Yacht – Lucky Ash.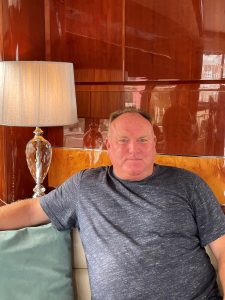 Andy has owned his 2004 flybridge for the past 9 years and admits that it's really stood the test of time, but as its utilised regularly for charter, he decided to make some functional and aesthetic upgrades.  He got in touch with Princess Motor Yacht Sales in Swanwick and liaised with the dedicated retrofit team on a works list that was quoted for and approved in just a couple of weeks.
During the winter of 2021/22 Leon McGregor and Peter Harwood at the Saxon Wharf facility began working on the extensive list including installing WIFI, additional sockets, new headlinings, exterior upholstery, covers, teak table, helm seats and bimini, to name a few areas.
Andy says 'even though guests charter Lucky Ash to get out on the water and relax, the first thing people ask is, what's the WIFI code and where can I plug in my laptop/mobile to recharge?'
The interior has an unmistakable classic Princess styling with a glossy wood finish and cream leather sofas that hug you.  She has a real homely feel as Andy lives on board most of the time – the ultimate staycation.  Princess freshened up the headlining in the saloon by recovering it in a faux cream leather finish to replace the faux suede look.
Al-fresco is where you notice most of the retrofit work.  The exterior upholstery on the flybridge and cockpit was replaced with custom-made contemporary 2-tone grey wrap-around seating, along with the sunpads and high back helm seats in Movida.  'Everything was usually blue and white in the yachting world' says Andy, so I was really keen to update the look of Lucky Ash and I'm absolutely delighted with the results.'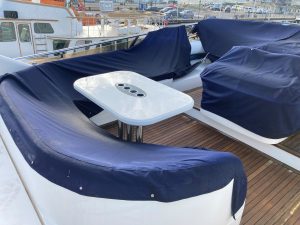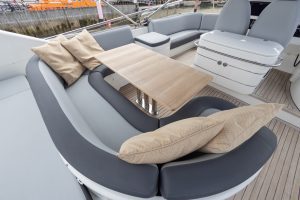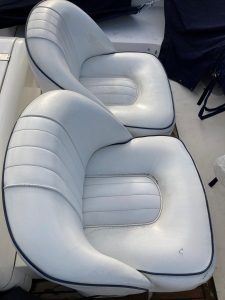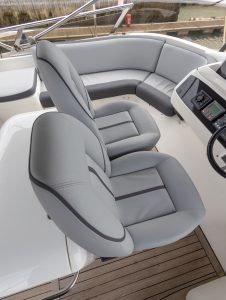 Further retrofit & refurbishment works on the flybridge included a new teak dining table for entertaining al-fresco, having the old console dash units refurbished in a smart carbon fibre coating and installing even more waterproof sockets and upgrading the exterior deck lights.  When you see the sound system on the flybridge you quickly grasp a sense of the party vibe on board – yes, he even showed the Princess team a quick film on his iPhone of an occasion delighting his guests with an Elvis impersonator!
The original bimini has been replaced with a new hydraulic bimini in grey featuring inset lights.  'A bimini is a 'must' as far as I'm concerned as I spend a lot of time out here on the flybridge and I don't want to burn or get wet. Having a hydraulic bimini makes it so much easier when I'm also taking care of guests in the changeable British weather,' says Andy.
To further compliment the new contemporary colour palette of the flybridge, Princess Motor Yacht Sales also repainted the original blue waterline and feature panels in grey anthracite and supplied custom grey warps and fender ties.
Now in full swing for the summer charter season, the next jobs on the works list scheduled this winter include replacing the flybridge teak decking with a new synthetic teak finish, upgrading the heads system, giving the hull a deep-clean and applying fresh antifoul.
Andy is fiercely proud of his Princess yacht and enjoys being part of the Princess family.  When asked about his next 'life chapter', Andy replied, 'I just want to keep making people laugh'.
Discover more about the retrofit & refurbishment services available across the UK, Spain and Balearics on the website: www.princess.co.uk/aftercare/pmys-individual/