During another heatwave of the hottest summer on record, a flotilla of 12 Princess yachts with owners, families and friends joined Princess Motor Yacht Sales for the UK summer rendez-vous 2022.  They cruised from Southampton to Guernsey via Cherbourg and for many, this was their first long passage, and for most, the first time crossing the English Channel.  From a Princess V40 to a Princess F62 everyone enjoyed the passage to Cherbourg and were even greeted with a pod of dolphins just outside the harbour.  Guests swapped stories over welcome drinks on the pontoon followed by an informal dinner at the Cherbourg Yacht Club.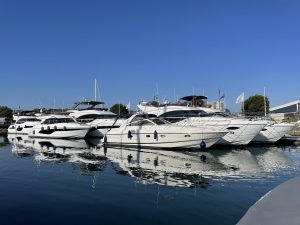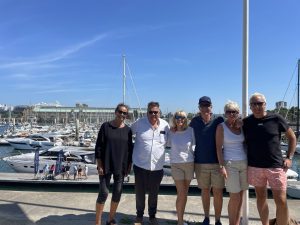 Following some downtime to explore the quaint town of Cherbourg with its café culture, market square and boutiques, the adventure continued the following day with a short hop over to beautiful St Peter Port in Guernsey.  The Princess flotilla looked sensational and the weather couldn't have been more perfect with calm seas and superb temperatures.  There was a real sense of belonging that was incredibly heart-warming.  Yachts berthed along both sides of an entire pontoon in Victoria Marina for three nights.  Princess owners enjoyed plenty of time to relax on board and explore the island at leisure, and most took a boat trip to neighbouring Herm Island for a swim in the gorgeous turquoise water.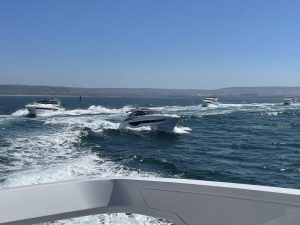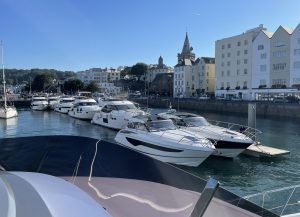 The five-star Old Government House Hotel & Spa hosted over 30 guests for a champagne reception at the Olive Grove terrace with far reaching views across the water to Herm Island, perfect on such a balmy evening, followed by a delicious 3 course dinner.  Rosé flowed and the palatial room was filled with chatter and laughter of like-minded yacht owners, families and friends.  Many guests started discussing the next Princess yachts customer cruise.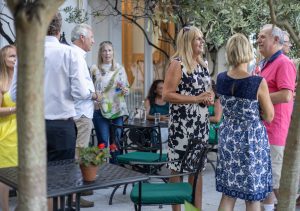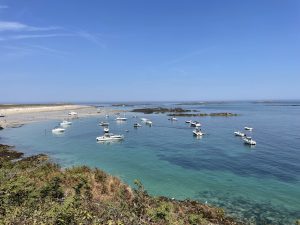 Everyone enjoyed pontoon drinks during the lead Captain's departure briefing on the final evening ahead of an early morning departure to catch the perfect tide.  New-found friends continued swapping stories of their island adventures, sharing cruising tips and checking out each other's yachts.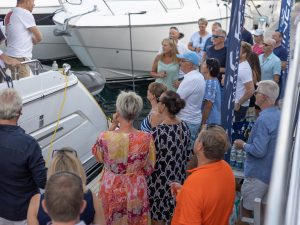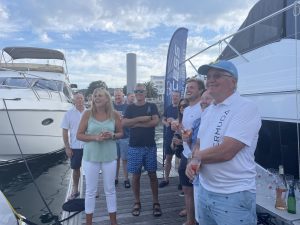 'An absolutely unique experience.  The Princess staff and lead skipper were superstars.  It was lovely to meet the other Princess owners and talk about the exciting moments of the trip – everyone gelled so well together.' Steve Wilson and Greta Meyer, Princess P50 'Flying Lady'
'The helpfulness and willingness from everyone was second to none.  And to see the entire flotilla behind us was absolutely fantastic.' Michael Spark and Julie Spark, Princess F62 'Pearl'
'Joining the Princess flotilla this year enabled us to really appreciate the performance and technical abilities of our yacht, whilst having the safety and security of the Princess team around us, as well as meeting like-minded Princess owners who also enjoy an adventure. Crossing the English Channel has always seemed daunting, however joining the flotilla has now given us the confidence to think a little bit further in our future itineraries', Mark Barber, Princess F45 'Tiny Dancer'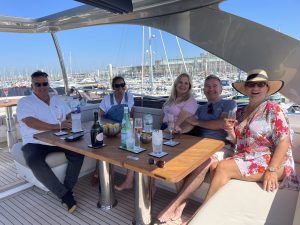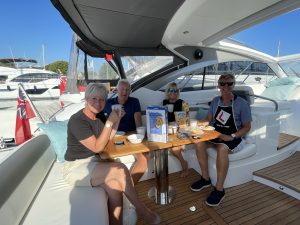 Experience the exceptional Princess family with a wonderful selection of customer events to choose from this year.  Register your interest here to join a Princess yachts customer cruise.