Spotlight on the Princess Yachts office in Ibiza.  When asked to imagine a summer holiday in Ibiza, in all likelihood it is the nightlife that immediately springs to mind. Legendary clubs such as Amnesia, Pacha, Eden Ibiza and DC10 offer world-famous night time entertainment, with many of the biggest names in music from Markus Schulz to Lady Gaga having graced the stages with their presence in recent years.
That said, there is another side to the Spanish archipelago which makes it something of a hidden gem for both budding and highly experienced boat owners. Here, Princess spoke to Gordon van Wijk who is heading up the recently-opened Princess Yachts office in Ibiza, Marina Botafoch, to discover more about the slightly quieter side of this stunningly beautiful Balearic Island.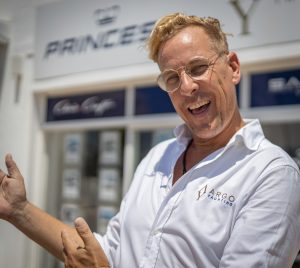 Far from the madding crowds
If you aim to visit during the less busy times of year – namely May, June, September and October, rather than the full-on period of mid-summer – you can truly make the most of Ibiza's famously beautiful beaches and azure waters.
As Gordon explains: 'People who come to Ibiza are often surprised about the other face of the island – the nature is so beautiful. They imagine it's just nightlife and jet-setting, but it is so much more than that. There is so much tranquility to be found and a really laid-back atmosphere, which can help even the most stressed-out person to relax.'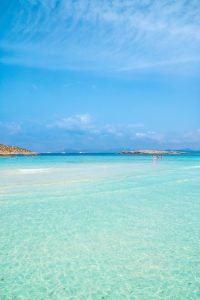 Top-notch service
Another calming element about paying a visit to Princess Yachts office in Ibiza is the quality of service on offer. 'Our clients love us.' says Gordon. 'We have a fantastic mechanical engineer (Patrick) based on the island who is really good and thorough.  It's just what the island needs: good, serious, knowledgeable craftsmen to support yacht owners on the island – and this will continue to grow as the yachting infrastructure develops.'
Getting close to the water
The Princess yachts available in Ibiza fit perfectly within its distinctive boating culture.
'Ibiza is very much a day-boat culture. Those looking to cruise here are young, hip and want to enjoy the crystal-clear water, making the most of water sports activities.'
'The Princesses which are most popular in Ibiza are the V40, V50, V55 and V60. These feature open cockpits, which means that your living area is almost 'alfresco' in style. You can walk straight from the dining/living area out into the open, and it is only a couple of steps down to the bathing platform, where you can jump straight into the water. This creates a nice flow of movement through the boat, and a strong connection to the sea.'
He continues: 'In addition, we also offer larger Princess yacht which are ideal for families looking to enjoy being out on the water for days on end. They can cruise around the island, then drop anchor in one of the beautiful calas (bays) here. There is so much to do for owners in the area – whether that's water sports or cliff diving. You certainly won't be bored!'
Gordon's top three Ibiza spots

Kick off your trip by sailing to Cala d'Hort to see Es Vedrà, the famous mystical rock. This monolithic limestone rock formation stands at over 400 metres in height and is the source of many island myths and legends (including UFO sightings!).
Head over to Atlantis, which is just 500 metres from here. Although it is called 'Atlantis' by visitors, its real name is Sa Pedrera de Cala d'Hort and it functioned formerly as a sandstone quarry. The cuts in the stone caused by the quarrying resulted in asymmetric walls and deep gaps that have become natural pools filled with seawater. These are stunningly beautiful and have to be seen to be believed.
You can't leave Ibiza without visiting her little sister island, Formentera, which really is gorgeous. Here, I would recommend spending time relaxing in one of her shallow anchorages and then heading ashore to enjoy a paella in one of the famous beach clubs and soak up the wonderful atmosphere with a cold glass of wine.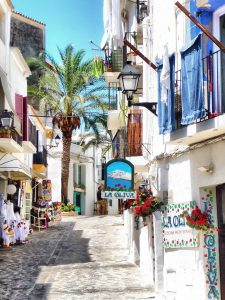 To discover more about the Princess Yachts office in Ibiza, visit: www.princess.co.uk/location/ibiza/ or call +34 871 554 307 or email ibiza@princessmysales.com