Princess Yachts in Ireland.  As a country, Ireland is famous around the world for its generous and warm hospitality.  With this open-minded approach found in its nightlife, live music, folk culture and dining, it is no less true for those looking to discover or explore the Emerald Isle via boat.  My Princess caught up with James Kirwan, Group Manager with BJ Marine, Princess' dealer partner based in Greystones near Dublin, to discover what this hidden gem of yachting has to offer.
(photo credit David Hoctor)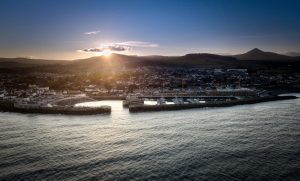 Moving with the tides
Although BJ Marine boasts a boat-selling history spanning 40 years, it only joined the Princess family as a dealer this year. James explains why this is the opportune moment for the two brands to come together.  'As the average size of boats in operation in Ireland has continued to grow, 2022 was the perfect time to start as a Princess dealer on the ground.  This means that we are well placed to meet this burgeoning demand, as ever more people realise how fantastic the cruising is around here.'
Diverse clients
Indeed, working with BJ Marine, Princess is able to cater to a truly broad range of clients in Ireland, as James highlights.  'If you had asked us about our clients five years ago, we would have had a pretty rigid template, but now we really have all kinds! It could be young families looking to get out on the water, day boaters searching for that exciting short-term experience or retired people in their 80s who are looking for ease and reliability.'
Fantastic flybridges
As for how this translates into suitable Princess models, these are correspondingly diverse.  'The Princess V40 and V50 are very popular and have really grabbed people's attention. Many of our clients are people who have enjoyed owning sports cruisers around 32-35 feet and are now looking to move up in size.'
He continues, 'Because of our distinctive climate in Ireland, the flybridges tend to be very popular, so anything from the 45 up to the 62 in flybridges is what people want to talk to us about, and that is what you see around marinas the whole way around the coast.'
Stress-free service
Should an owner be unfortunate enough to encounter any hiccups, BJ Marine (Princess Yachts in Ireland) also has the service element totally covered.  James explains, 'We have our own boatyard on-site in Greystones.  We have a full range of contractors, including Volvo, Raymarine, Garmin and many more – so if someone arrives with an issue we can't solve ourselves, we have the numbers in our phones of people who can!  We always try and get people back on the water boating as quickly as possible.'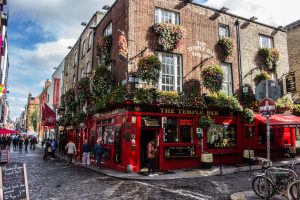 James' Irish itinerary
It may not be the Med, but it doesn't need to be.  James Kirwan offers his simple three-part itinerary to make the most of cruising in Ireland.
Make land with us here at our well-equipped facility in Greystones and get the boat prepared and provisioned up ahead of your upcoming travels.
Greystones is located only 45 minutes away from Dublin city centre, so head to Dublin next via the electric train and make the most of what the city has to offer.  In particular, during the summer months, there is a constant stream of concerts and nightlife on the go for you to enjoy, but it is fantastic at any time of year.
Head down south to West Cork, which is part of the rugged and magical Wild Atlantic Way.  Cruising down to a village like Kinsale on the southern coast will entail a 160-170 nautical mile run, but it is worth every mile.  Once you are down there, you can enjoy the best food, restaurants and hospitality in the whole country.  And, if the weather is good, I do not believe there is more stunning scenery to be found anywhere else in Europe.
To discover more about Princess Yachts in Ireland visit: www.princess.co.uk/location/ireland/ and contact BJ Marine on +353 1 287 8334 or visit www.bjmarine.net. For all sales and visiting enquiries, contact james@bjmarine.net