Just a hop across the water from the Princess Yachts head office and shipyard in Plymouth and with nearly 60 years of Princess experience, it makes sense to have your yacht servicing within the Princess family.  Thorough maintenance and preparation can mean fewer problems later on and more quality time on board with family and friends.
Princess Motor Yacht Sales has dedicated teams of Princess-trained in-house service engineers and technicians with the knowledge and expertise to identify issues with specialist tools and diagnostic equipment and resolve them quickly.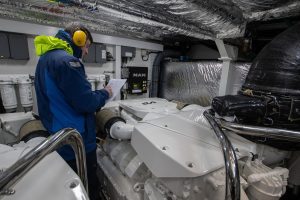 Service Inclusive Packages
Princess Motor Yacht Sales are proud to offer a unique Service Inclusive Package exclusively for Princess owners available now on all Princess yachts up to 10 years old.  Specialists create a comprehensive list of annual service items built into a bespoke package for your particular yacht.
What's included:
– Engine/Gearbox service
– Generator service (Cummins & Onan)
– Lift, block off, storage for 5 days and launch
– Antifoul treatment
– Replacement of all external anodes
– Descale/burnishing of stern gear
– Machine wax polishing of the hull and the super structure
– Carry out seacock service
– Steering system service
– Trim tab service
– Battery check
– Fire system service
– Fresh water system service
– Sanitation tank service
– Annual inspection and report
Service Inclusive Packages are available for boats located on the south-coast of the UK, Mallorca and Puerto Banus.  Packages can be purchased for one or two years with options to extend further to suit your needs and requirements.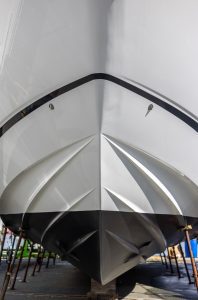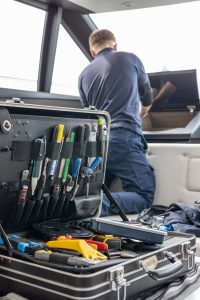 "We moved our 2011 V52 across the English Channel to Princess Motor Yacht Sales' Saxon Wharf base in Southampton with a view to doing the winter service and a few upgrades.  From the initial contact to the return of our boat the communication and service was outstanding. Requests for quotes were sent very quickly and the work was done on time and at the agreed price.  Where unexpected defects were encountered, I was sent images and a clear written explanation of recommended works which enabled me to make a quick decision.  Leon, Patrick and the engineering team did a great job and the boat came back fully serviceable and ready for the  season."
Bill & Annie Dolan, Princess yacht owners
For further information, please contact your Aftercare Concierge or call +44 (0)1752 600657 or visit: www.princess.co.uk/service-inclusive-package/