Princess Motor Yacht Sales has 13 offices across the UK and Europe.  The Plymouth office and showroom, based in Turnchapel Wharf on the waterfront, is a former Royal Marines military installation steeped in naval history.  The quaint village of Turnchapel on the beautiful Devon coastline is situated just across the water from the brand home of Princess Yachts' head office, factory and shipyard.  Princess Motor Yacht Sales Plymouth has its own pontoons and access to a slipway and hoist with plenty of land to undertake works on boats on chocks.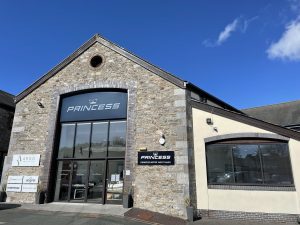 The friendly team of over 30 Princess-trained staff specialise in retrofit, refurbishment, service and maintenance along with new and pre-used boat sales, brokerage, marketing and events.  My Princess magazine spoke to one of their sea trial skippers to find out what makes him tick.
Name – Jon Wyatt
Job title – PDI Skipper (Pre-Despatch Inspection)
Office – Princess Motor Yacht Sales Plymouth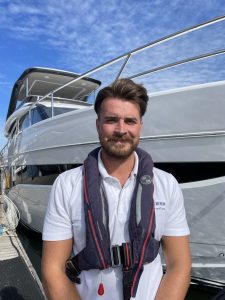 How long have you worked for Princess Motor Yacht Sales in Plymouth and what do you do there?
'I'm a skipper, so I drive the Princess yachts during sea trials when we are testing them, checking systems and all elements of safety at sea.  I also help prepare the paperwork following the sea trials, like a general auditor.  I've also just started doing owner handovers including orientation, systems updates and general cruising guidance.  I joined in December 2021.'
Before joining Princess, what did you do career-wise?
'I worked on superyachts, initially on yacht deliveries working my way up from deck hand to boson and watch-keeper and I worked offshore for 2 years.  I had an amazing time travelling but I just felt it was time to come home for a better work life balance – and I got married last year.'
What's the best part of your job?
'I get to drive boats for a living and I'm based at home here in Plymouth!  I enjoy being out on the water even though the winters are a bit tougher and the sea conditions can be challenging, it's still worth it.'
Do you have a favourite yacht and why?
'It has to be the Princess X95, she's such a stunning yacht with incredible internal space.  I was lucky enough to help the skipper on slot 1 when I was freelancing.  We cruised the south coast of Devon up to Salcombe and as she is such a departure from the rest of the ranges, she turned heads!  My other favourite is M/Y Talitha.  I lived aboard for 2 years so she was my home and she has a great owner and crew.  Being a 1929 yacht, she has some beautiful classic styling.'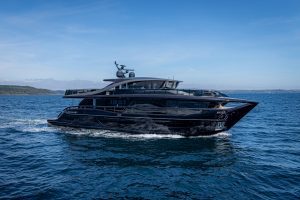 What's the most unusual thing you've encountered here at Princess in Plymouth?
'We have some pretty awesome wildlife here in Plymouth Sound and I've spotted dolphins and tuna whilst out on sea trials.  And I even saw a Porbeagle shark towards the Eddystone Lighthouse when I was out fishing.'
How do you enjoy your spare time?
'In the summer I love watersports – paddle-boarding, windsurfing, diving and taking our little motor boat out for a spin, but I'd also love to try a wing sail.'
What's your favourite spot around the south west?
'Well, we keep our Dory at Wembury and head out to the Mewstone which is lovely.  We also enjoy North Sands in Salcombe and taking the campervan down to Cornwall for weekends – and the dog comes with us! We're so lucky to have all of Devon and Cornwall on our doorstep.'
Some of the Princess Motor Yacht Sales team during the summer of 2022.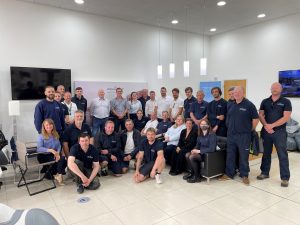 If you'd like to find out more about joining the Princess Motor Yacht Sales team in Turnchapel, Plymouth, then follow the LinkedIn social media page and check the recruitment webpage.